7 Spring Cleaning Rituals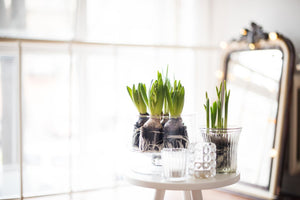 I really love the Springtime!  For me, it signifies new beginnings far more than the New Year and that's because there's so much newness all around. I adore the welcome earlier mornings with sunlight streaming through my windows to the sound of the singing birds, who have finally returned from their winter hiatus and the longer days ahead.  I love the flowers that Spring up all round me, in my garden, the park and brightening up the houses where I live; the happy daffodils, the sweet-smelling hyacinths and soon, the graceful tulips in their vivid reds and pinks.  It's a gorgeous time of year.  There's the hint of better weather as the temperature slowly starts to climb, plus there are all the long, luxurious weekends to bask in and enjoy time with friends.  Oh – and let's not forget that Easter is just round the corner, a weekend of festivities filled with Easter egg hunts, lingering lunches and time spent with family.  With all of the above in mind, I like to use my time to Spring clean.  Of course, we all clean year round but Spring promises so much, it's a time to think about newness and cleansing your home as well as your mind.  Taking this into consideration, here are my own special Petits Rituels for Spring Cleaning.
De-Clutter
That refers to your home but it also should involve your mind too.  Spring is cleansing by nature but that doesn't mean you should just shake up your household! Shake out your mind, banish negativity and decide that with all the gloriousness around you – you will embrace the positive energy that the season brings. 
When I de-clutter I make myself focus on what I need and what I don't need.  I go through my cupboards and get rid of clothing that I haven't worn for a couple of years.  I like to donate to charity too, by doing this I know I'm not letting things go to waste and I'm helping a good cause.  I like to buy pretty containers or boxes and store away things I no longer use but I want to keep – call it my keepsake boxes.  I also use the time to throw out old magazines and broken objects as well as getting rid of any duplicates. 
Fill Your Home With Spring Flowers
I always feel a freshly cut bunch of flowers or a gorgeous bouquet transforms any room.  It adds a burst of colour and attractive shapes and sizes to admire.  I like to have fresh flowers at home as much as possible and especially during Springtime because there are so many varieties to choose from.  The scent of fresh flowers is extremely welcoming however; it does dissipate rather quickly so along with my flowers I obviously adore a scented aromatherapy candle.  Now, all of the Petits Rituels aromatherapy candles have their own unique fabulousness but if you want something Spring-like, I particularly recommend Floral Sensations with its burst of lavender, Turkish rose and geranium it truly brings Spring inside.
Freshen Up Your Bed Linen
When I think of Spring, my mind fills with soft pastels and pure, crisp white.  That's why it's the time of year that I buy new bed linen and freshen up my bedroom.  I love pure cotton because it's comfortable and cool.  I like my bedroom to be a relaxing place, as does everyone I'm sure so to make it as calming as possible, I add my soothing Sensual Healing candle which is a rich blend of   Ylang Ylang, Jasmine, Rose and Lavender.  It's perfect for that end-of-day feeling when you want to unwind and luxuriate in your surroundings.
Get Outdoors!
Of course, your comfort in your indoors is important for your mind, body and soul but getting outside is definitely one of those things that rejuvenates and inspires!  My garden is my haven and I often use it as a place to gather my thoughts. I find it motivates me to try new scents and ideas.  That's why I use the Springtime to spruce up my bedding plants, fill up my hanging baskets and make my tubs look bright and colourful.  I watch the bulbs burst with flowers and enjoy seeing nature so if you haven't already, make this Spring the time to take up gardening. Even if you only have a small exterior space, a couple of terracotta planters filled with pansies or narcissus and polyanthus will bring you plenty of Spring freshness.
Make Your Home Inviting
Easter is only a couple of weeks away and as I enjoy entertaining friends and family I like my home to be inviting too.  I add the fresh flowers already mentioned and give everything a thorough clean, getting into those nooks and crannies that are sometimes difficult to reach!  I also take the opportunity to do those annoying little jobs like fill chips in paintwork or even get handy at the weekend with a paintbrush and freshen up my walls.  I like my home to feel rejuvenated too and for that I light Minty Bonbon which is one of my invigorating aromatherapy candles made with spearmint and lemongrass, it has a light yet exhilarating scent and spurs me on while I Spring clean!
Get Arty
With the colourfulness of Spring, I often feel that I want to introduce more colour into my home and spend time at arty boutiques or go to street art vendors to find new pictures for my walls.  I then get them framed and hung.  It's amazing what a few new prints can do to a home, transforming plain walls into something interesting and eye-catching.
Spruce Up Your Bathroom
If there's one place I love to relax and unwind in, it's my bathroom which is a little slice of heaven.  Every Spring, I update it with new, gorgeously large fluffy towels and I add extra indulgent luxuries.  I love my shower gels and body lotions but I also adore adding aromatherapy oils and scents.  This is one of those places where I always light a candle and this Spring I'll make it a citrusy fresh one with my two-wick Orange Gourmande candle, a blend of sweet orange with rose geranium, it makes my bathroom smell incredible.
I'd love to know what your Spring Cleaning rituals are, if there's anything you love doing to refresh your home for the season perhaps I should try it too!
---