Hygge Yourself A Merry Christmas With Petits Rituels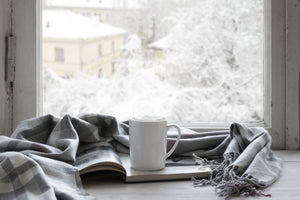 At Petits Rituels, we've fallen in love with the Danish craze known as "Hygge". Do you know what it is? We did spell it correctly and say Hygge and not hug although we love doing both and actually they're part and parcel of the same thing!  Firstly, it's worth mentioning that the Danes have just been voted number one happy nation in the world and that's because of their Hygge mentality.  For those of you who've never heard of what we're talking about, it's something celebrities everywhere are embracing. At Petits Rituels, we're hot on their heels because Hygge is all about feeling good about yourself and appreciating the little things as much as possible.  We think it encapsulates our own Petits Rituels products – those little rituals that mean so much.
Hygge translated actually means enjoying life's simple pleasures and it's pronounced "hue-gah".  Life's little pleasures relates to anything "natural" you love. It could be appreciating your family and friends but it's as much about appreciating wonderful moments that aren't extravagant, they are simple moments yet give an enormous feeling of warmth and happiness. It could be as small as going for a winter's walk and appreciating the beauty of your surroundings.  It could be as domestic as cooking in your kitchen with your partner or friends and enjoying the fabulous aromas from your oven while enjoying basking in each other's company.  Hygge could also be something such as reading a very treasured novel or chatting and laughing with good friends surrounded by a warm log fire.  The basics of Hygge are the little intimate things, nothing material so those things that make you truly content, feeling cosy and secure! As we're right in the middle of the festive season, Hygge couldn't be more appropriate!
We think Petits Rituels epitomising the art of Hygge because it is one of those rituals designed to bring pleasure and comfort.  Just lighting one of our naturally fragranced candles is enough to sooth and calm the mind, giving you enormous sense of wellbeing and relaxation. You appreciate the moment; savour the ritual of inhaling your favourite scent and allowing it to envelope you.  Even our more invigorating scents such as Sensual Healing with its aromatic blend of Ylang Ylang, Jasmine, Rose and Lavender gives pleasurable Hygge feelings because it's meant to be enjoyed with someone you love and arouse the passion between you and your other half!
So what can you do to experience the pleasures of Hygge?  Well, we would suggest the following little pleasures guaranteed to enhance your life and help you to bask in the warmth of love, togetherness and security:
Banish all of your technology for an evening and that means no iPads, no tablets, no TV or mobile handsets. We might allow you some soft, relaxing music but that's all!
Cook something simple but delicious to enjoy with your family and friends or treat yourself to home cooking using fresh, wholesome ingredients
Light one of our aromatic candles, something like By The Fire with its rich, spicy festive blend created with natural spicy cinnamon, clove and orange
Turn down your lights and get a fire on if you have a fireplace, if not, keep your room at a comfortable temperature
Change into something really cosy, your PJ's or a favourite relax-at-home set
Warm up some mulled wine to enjoy
Invite your closest friends round or spend an evening just with the family
Chat, laugh, play some games or if you like, we'll lift the technology ban so you can download a wholesome feel-good movie for everyone to enjoy
That's what Hygge is – being relaxed!  There's no need for fancy places just the comfort and specialness of being together at home with good food, good friends and a calm atmosphere.   Of course, you don't always need others to feel the benefits of Hygge.  Just try cosying up on your most comfortable sofa and doing something you really enjoy.  That could be reading your magazines, closing your eyes and listening to soft music, enjoying your Petits Rituels candle burning in the background – whatever you truly love, that's what Hygge is! It's about living in the moment and appreciating that moment. 
The Danes already know that they don't need to rely on day to day items to feel good. When you live in a busy, frenetic world it's so easy to forget about the important things – people, your home, concentrating on what you love rather than slaving away for too many hours at work and what you want to achieve.  It's not about those chores, it's not about answering emails and it's not about material wealth, it's about switching off and taking time out to indulge yourself in what's wonderful around you.
We could learn a lot from the Danish!  They really take pleasure in day to day simplicity, whether it's taking the dog for a walk on the beach, doing something small but special for a loved one or just luxuriating in a warm soak in a hot tub. They like to nurture their inner being and that's why they really are believed to be the happiest people on earth!  Of course, you could just move to Denmark but isn't it easier to take stock of what you're doing and make it something to really make you happy?  So what we suggest is applying Hygge to this Christmas.  Make the most of every moment, cherish the little things – light a Petits Rituels candle to set the mood and have a very Hygge Christmas!
---