Where To Place Reed Diffusers In A Room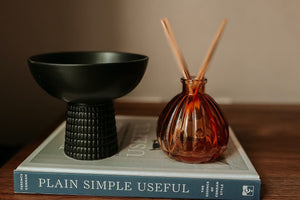 Reed diffusers are an effective and safe way to add a wonderful scent to your home. But in case you're wondering where to place your reed diffuser in a room, here are a few tips:

1. When using a reed diffuser, be sure to choose the placement based on the size of your room. If you are in a large room, place it near an air vent or at the centre of the room. For smaller rooms, focus on placing it specific areas such as near a side table or desk.
2. When choosing where to place a reed diffuser, think about the purpose of the room. For example, if you are using it in your bedroom to help with sleep, placing it on a nightstand or dresser might be ideal. If you plan on using it in another area of your home such as your living room or kitchen, placing it somewhere easily visible and accessible may be more desirable.
3. Remember to keep your diffuser away from sources of heat, such as radiators or fireplaces. This will help preserve the quality of the essential oil and prevent it from evaporating too quickly.
4. Adding a reed diffuser to your hallway can create an inviting atmosphere as soon as you walk in. Just be sure not to let children or pets get too close, since oils can be harmful if ingested.

To get the most out of your reed diffuser, follow these tips. Reed diffusers can add a pleasant fragrance to your home, and by following these guidelines you can choose where to place it safely and effectively. By knowing the size of the room, its purpose, and any potential hazards, you will be able to enjoy all of the benefits offered by essential oils while avoiding any negative consequences.
You may also like:
What Reed Diffusers Are Safe For Cats
How Often Should Reeds Be Replaced In A Diffuser
---