9 Rituals To Make You Love Autumn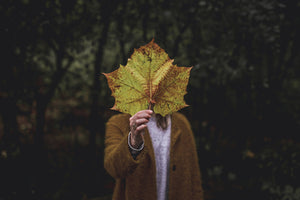 The start of the Autumn season signifies new beginnings. It's kind of embedded in me, that new school year always seems to coincide with feelings of "starting again".  I see it as a time to take stock of life and ring in the new season along with waving goodbye to warm sunshiny days.  It's time to kick up the crispy brown Autumn leaves gathering along the pavements, yes, Autumn for me is one of the best times of the year.  The weather is still mild, some days it even gets pleasantly warm and the days are long enough to enjoy getting outdoors as much as possible.  The nights haven't yet completely drawn in, there is that amazing smell of nature in the air and it's not long until the festive season rolls in – then it's party time!  In the meantime, I like to use Autumn as a time to reflect, start afresh and use it as an opportunity to "spring" clean – in Autumn time.  Here are nine of my favourite Autumn rituals you might want to adopt.
1. Refresh Your Wardrobe
Unless you're lucky enough to have oodles of space at home, you might want to switch over your wardrobe to reflect the change in season. Even if you don't "change-over" it's a good time to go through all your summer-wear and pack it into storage.  Go through all your garments carefully and check for stains, marks or areas where you might need to use a needle and thread.  Once everything is nicely cleaned and pressed, wrap it in acid-free tissue paper and pack away in boxes or a suitcase.  Add in a moth repellent so nothing gets eaten away over the coming months and put it away, ready for when the weather warms up again next year.  Then, swap over your clothes so your warm-wear is easily accessible.  You may or may not be an orderly person!  However, whether you are or you aren't I find that colour coding makes a huge difference. 
The best way to keep your clothing smelling fresh and delicious is to add my Petits Rituels wax melts. Simply pop a couple onto your shelves and let the fragrance envelope your clothes, not only will they smell fabulous, you will too! I love the Sensual Feeling wax melts but you can switch your melts according to the season – or why not change over after a couple of months?
2. Drink Hot Milk At Bedtime
A hot, milky drink is something I love before bed – don't drink tea (or coffee), the tannins could prevent sleep. A hot drink (even if it's not milky) helps you to feel comforted and cosy. If you don't like milk, try an herbal tea with a little honey. There is a theory that hot milky drinks helps induce sleep and that's because milk contains tryptophan, the amino acid that encourages the brain to produce serotonin. This is a calming hormone that promotes relaxation. It works for some people and even if it doesn't make you feel sleepy, it's definitely therapeutic so try it! Then, move onto my next favourite Autumn ritual…
3. Get Your Bed All Snuggly!
Your bed is a sacred place. It's where you retreat at the end of the day and hopefully, its comfort lulls you into a peaceful sleep. Make it your absolute haven! Perhaps think about changing your sheets to a new set, look for 100% cotton which is kind to your skin, a high Egyptian thread count really reflects quality. Consider adding a nice fluffy throw for when the nights grow cooler. Always wash new linen and iron it first. Have a warm aromatherapy bath before going to bed, perhaps add some lavender essential oil blend for sleep or burn my lavender scented candle (both excellent for encouraging real relaxation). Then, when you're ready for bed, slip under your duvet so you're pleasantly cocooned and take a few deep breaths while placing your hand on your tummy. Inhale deeply and hold for a few seconds, then exhale with a long sigh. With each breath you should feel enormous relaxation washing over you. Think about stillness and how comfortable you are and use an affirmation to really slow down your body and quieten your mind…something like "I feel wrapped up and safely cocooned." Let the day's worries drift away while you fall into a delicious slumber!
4. Time Sensitive Smart Lighting
Timed lighting is more than just excellent added security for your home; it gives your house a glow from the outside so makes it welcoming. Adding in a time-sensitive light bulb to a lamp or a ceiling light goes a long way to making the darker evenings seem less daunting especially if you know you're the first one to get home. I purchased some special smart bulbs through HIVE and there are lots of colour choices too so you can really have some fun! Just pair it with the app if you've got Hive.
5. Enjoy The Outdoors
There's no excuse yet that the weather's too cold. Unless it's pouring with rain, Autumnal weather is extremely cosy and very satisfying! The leaves, the still-green grass, there are conkers and acorns along pathways – squirrels burying their nuts for the winter, birds still tweeting happily before they fly away for the season ahead. There is lots to do and it's the best time to really get the most out of country or park walks. If you have things on your mind, I find there's nothing better to clear the fog than going for a long walk. It gets endorphins going and I always feel happier. Why not also bring the outdoors in? Collect some pretty acorns, pine cones and conkers, pick up some interesting leaves and perhaps some strange shaped twigs and bring them inside to make an extraordinary autumnal display? Everyone has some artistry hidden within; Autumn is a great time to bring out your arty side!
6. Set Some Goals
As with new year, I find that Autumn is the perfect time to set some goals for the coming months, except new year for me can be so cold I'd rather be indoors as much as possible! So I use Autumn to write a list of what I want to achieve, it could be as simple as trying new, winter-warmer recipes or as complicated as a huge life change such as a new job. Whatever you want to do, make it a priority and research how you can go about it. Be inspired by the change in seasons! If you need to provoke thought, I find a candle with the right type of scent really wakes up my brain! Minty Bonbon is thoroughly refreshing and if I'm not thinking clearly, just the fragrance entering my sitting room helps me to really get inventive! Go one step further, write down your list of intentions and add some positive energy crystals perhaps with a photograph of what you ant to achieve and let the good vibes come into your home. I find a positive mental attitude can really help you to get where you want to be.
7.  Create a Well-being Autumn Altar
Might sound strange but actually, an altar containing the collection of nature that you've found outside really does help to calm and relax. Add in a favourite Petit Rituels candle such as By the Fire with cinnamon, lemongrass and orange, prefect for warming flagging spirits or an oil diffuser with restful essential oils. Whichever you prefer but I guarantee that lighting a candle or diffuser surrounded by a collection of beautiful, natural things will help you to meditate and concentrate on decreasing anxiety. Dim the lights, put on some tranquil music or sounds and try it, it's extremely restful and restorative!
8. Autumn Smoke Cleansing
Another ritual that might sound strange but it's really not; just a simple bunch of dried flowers can provide an incredible aroma that literally welcomes Autumn in! Dried flowers or herbs are really incredibly powerful and actually help to cleanse away bad odours too. It's also what's behind burning incense so it's not as odd as you think. Think frankincense, Middle Eastern spices and Asian scent – all come from burning incense sticks that are made up of various herbs and flowers. As an example, sage is a superb healer so if there's illness or you're feeling under the weather, try burning sage (don't just burn it – take care to do it properly, you need a thick, earthenware pot, some dried sage and light it but blow it out quickly and let the fragrant smoke envelop your room). Another tip – don't breathe in the smoke, rather let it settle in your area of choice and enjoy the aroma.
9. Nest!
Yes, there's nothing better than nesting. Get your home ready for the wintery months ahead. Stock up on scented candles (By The Fire candle is perfect for that cosy evening around the fire) and fragrance, buy some new novels to read when the evenings get cold and you're less likely to venture out. If you have a fireplace get it ready to go and clean out your chimney if necessary. Stock up on wood, if yours uses wood. If you don't have a fireplace, you can stock up on different candles (mix up heights too as this makes a great focal point) and light them instead. Draw the curtains, dim the lights (or don't bother if you have candles), play some soothing music and indulge yourself!

Do you have any rituals you like to perform for Autumn? If so, I'd love to hear them.
---