Are Your Household Cleaning Products Toxic?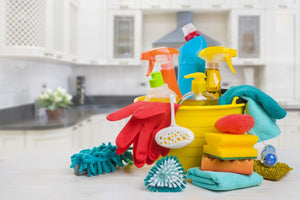 The cleaning aisles of supermarkets are jam-packed full of different cleaning products, each promising to make your oven shine brighter than ever before, to get your wooden floors restored to their natural glory, to wipe away the deepest grime and bacteria in your bathroom or kitchen but in doing so did you know that they could actually be dangerous to your health, and particularly to children.
If you've never thought about your cleaning products before, stop a moment and ponder what's actually in your cleaning products?  At Petits Rituels, I spend much of my time worrying about finding premium quality all-natural ingredients because I genuinely believe natural is better.  I can also guarantee the benefits of using natural essential oils.  Most of which are relaxing and calming, some designed to give you a boost but all are good for promoting better health in body and mind.  So when it comes to cleaning my home, I pay a lot of attention to the ingredients labels on the back of products.  I am also prepared to pay a little more for better quality, "natural" based and environmentally friendly products because so many chemicals are harmful, encouraging allergies and other health dangers
Bearing the above in mind, you might want to know a little more about those chemical ingredients found in household cleaners.  There have been numerous studies across the world to prove the dangers.  One of which was taken at the University of Minnesota in America and it found that many chemicals used in the home resulted in allergic reactions, especially in children.  It's not only allergies either, excessive use of certain chemicals can lead to birth defects and psychological disorders and a huge number of chemicals are now known carcinogenic.  Unfortunately, asthma is on the rise especially in children and much of this is down to pollution but it's also down to chemicals in the home.  The Consumer Protection Safety Commission noted that since 1970, asthma sufferers have grown by 59% and 1 in 11 children in the UK suffer with Asthma. 
What chemicals in cleaning agents should you avoid?
Well, one of the most dangerous products of all is formaldehyde.  It is a known carcinogenic and too much exposure can really irritate the respiratory system.  It is also well-known for causing skin irritation which is why it's banned from most (but still not all) skincare products. I can't reiterate how dangerous it is, so do make sure you don't use it.  If you want to know which of your products might contain it, check your wood cleaner, bathroom and kitchen cleaners, furniture polish.  Additionally, beware of formaldehyde when you paint your home because many paints contain this chemical which lingers for days while it dries. During this time, every member of your family inhales it.
Parabens are another chemical that should be avoided and we now know that there have been cases of parabens found in cancerous tissues in breast cancer patients.  It's a hormone disrupter in women and can even bring on early puberty.  Additionally, it is widely believed that parabens could inhibit fertility in men.  Watch out for air fresheners too – you might have forgotten these and some contain parabens, I would suggest getting rid of all of them and replacing with one of my natural essential oils Petits Rituels candles instead.  My candles are totally safe with absolutely no toxins whatsoever.  Try Minty Bonbon with spearmint and lemongrass – a very refreshing scent that gives your home plenty of citrusy zing!
Ammonia is another extremely dangerous chemical.  It can cause blindness and it can also affect lung function.  Even mild exposure is hazardous because it encourages respiratory problems such as coughing and irritation.  If ingested, it will burn your throat and mouth as well as aggravate your stomach.  Avoid it, it is usually found in liquid soap and household products containing dye.
Let's talk salt, Sodium Lauryl Sulphate and Sodium Laureth Sulphate (otherwise known as SLS) are both skin irritants and they serve no purpose except to add foam.  You'll find them in bathroom and kitchen cleaning products.  I should mention that they are often used in liquid soap, body-wash and shampoo simply as a foaming agent.  We have a strange subconscious belief that if a product foams, it works better but this is completely untrue! They can block up the skin's pores and they can also cause eczema, dermatitis and other skin problems.  Some studies show evidence that over-exposure to SLS could trigger cancerous growths. When I buy household and personal care products I always look for sulphate-free alternatives.
How To Clean Your Home Without Chemicals
It goes without saying, as far as you can, you should always use non-toxic products.  The best practice is to use fewer household cleaning products and in lesser amounts.  I check labels religiously and as far as I can, I only choose environmentally friendly products.  Don't use air fresheners or candles that contain harmful chemicals in your home.  They release toxins into the air which can affect the respiratory system and encourage asthma as well as cause damage to internal organs when ingested on a regular basis.  Remember, my candles are all natural aromatherapy candles made using pure essential oils.  You won't find any dangerous chemicals, paraffin wax or synthetic fragrances in Petits Rituels products.
As a suggestion, here are few very good non-toxic and environmentally friendly ingredients you may well have at home that work as excellent household cleaners:
White Distilled Vinegar
This is used in lots of cleaning products because it has disinfecting properties and gets rid of bad smells.  It's great for glass.
Baking Soda
This is excellent for scouring jobs such as in the bath, countertop and oven.
Lemon Juice 
This is nature's natural cleaner.  It removes grease, is fantastic for polishing and gets stains out.  I often pop a wedge of lemon in the dishwasher to make it smell fresh.
Tea-Tree Oil
This is a natural sanitizer and excellent for bathrooms.
Lemon Oil With Black Pepper Oil
These essential oils are excellent combined together for kitchen cleaning as they are anti-bacterial and freshening.
Cedarwood Oil
This is already a natural oil derived from wood and is great for getting your wood really shiny.
You can also use home-made recipes, I have a few of my favourites below for you to try!
Home-made Cleaning Products
All Purpose Cleaning Product
This is a gentle recipe for an all-purpose cleaner suitable for most surfaces (kitchen, bathroom etc.):
½ tsp washing soda
½ tsp lemon juice
4 tbsp distilled white vinegar
120ml hot water
Shake together in a jar.
Laundry Whitener
To get your whites really bright:
30 ml distilled white vinegar
15 ml lemon juice
Add to your washing
Glass Cleaner
To get streak free, sparkling glass:
120 ml distilled white vinegar
120 ml hot water
1 tsp lemon juice
Shake together in a jar.
For Wooden Furniture
1 tsp extra virgin olive oil
½ tsp Cedarwood oil
15 ml distilled white vinegar
Shake together and use sparingly.
If you have any of your own recipes for household cleaning products, I would definitely love you to send them over and I'll be sure to try them out in my home.  Happy cleaning!
You may also be interested in:
---