Lavender Essential Oil Uses And Benefits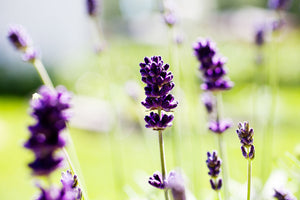 Lavender oil is one of the best-known and best-loved essential oils of all. As well as its immensely healing properties, its ability to calm and de-stress, it also smells sensational! Lavender is a popular oil used in wellbeing treatments and beauty products and that's because it is soothing and comforting. Additionally, for thousands of years, lavender has also been used in complimentary medicine, especially for flu, colds and mild viruses. That's because it contains strong antiseptic elements. For asthmatics and migraine sufferers, lavender has the ability to open up the airways and clear sinuses so it is an excellent alternative medicine. Healing and protective, lavender has other benefits including balancing the skin's PH, calming inflammation and it is a great choice for female health. The best type of lavender for essential oil is from Lavender Vera as it is well-known for the premium quality oil that is extracted from this plant.
Botanical Name
Lavandula Angustifolia
Countries of Origin
With a 2,500 year old history, lavender originally came from areas of the Mediterranean, the Middle East and India. Today it is mainly grown in France (especially Provence) and some other countries within the EU (the Canary Islands, Germany and Spain). Other parts of the world where lavender is grown include the USA, Canada, Australia, Cape Verde, Eastern Africa and parts of India and South East Asia.
Lavender Through The Ages
Lavender boasts more than 2,500 years of history. A flowering herb with a rich, intense, sweet scent, it was originally used by the Egyptians as a perfume and it was also used as part of the mummification ritual. The Romans took great pleasure from the lavender fragrance and used it in their washing routine to perfume and cleanse. They simply added it to water (one of the reasons why the name comes from lavare, the Latin for "to wash"). Lavender was found in ancient Roman homes as fragrance but the Romans also understood its powerful healing capabilities.
Lavender is also referred to in the bible, used by Mary on Jesus as a baby and again it was used following the crucifixion when Jesus' body was being prepared for burial.
Later on, during the Renaissance period, lavender was used to protect against infections, especially the plague, although it had limited success as the plague was extremely contagious and hard to control. However, it did act as an insect repellent for the lice that lived on the plague-ridden.
A few hundred years later in the late 19th century, Queen Victoria used lavender in her palace to fragrance the rooms and sweeten the bed linen. It was even used for floor and furniture washing and fresh lavender adorned palace rooms in generous vases. It's certainly better for the environment than today's chemically-laden household products – see my blog on the dangers of household products. As the Queen led the way in fashion, certainly for ladies of nobility, soon, lavender was very popular in London and the surrounding areas. Street sellers carried bundles of lavender, selling them in the centre of London and people started to grow their own in their gardens. This sparked a boom in cultivation and lavender became a strong business proposition.
Later on in the 20th century, Rene Gatefosse (renowned for founding aromatherapy) discovered that lavender was an excellent healer after he burnt his arm in his laboratory. He quickly immersed his arm in lavender oil as it was the closest thing to him and noted how it soothed and calmed the area of concern with immense speed. Lavender was also used during WW1 in dressings for wounded soldiers.
Today, lavender is enjoyed for a multitude of purposes:
Aromatherapy
Room scent
Perfume
Healing/natural remedy


The Aroma…
The fragrance of lavender is fresh, sweet and herbaceous. Some lavenders have a slightly fruity undertone. Lavender can be slightly camphorous.
Chemical Composition
Linalyl acetate
Linalool
(Z)-B-Ocimene
Lavandulyl acetate
Terpinene-4-ol
B-Caryophyllene
(E)-B-Farnesene
(E)-B-Ocimene
3-Octanyl acetate


The Therapeutic Benefits of Lavender
Lavender has a multitude of therapeutic benefits and all are scientifically backed.
For Anxiety
In a study in 2013, orally administered Lavandula oil through a medication called Silexan to treat anxiety disorder and other similar conditions. Trials were carried out over a period of 6 to 8 weeks and evidence showed that patients felt calmer and less anxious within 2 weeks. The capsule proved beneficial for patients experiencing sleep disturbance, decreased quality of life and depression/anxiety.
For Tension
Lavender oil is particularly calming and excellent for those experiencing tension and panic. It is also good as a natural antidote for effective headache relief, migraines and insomnia. It's advised to use a few drops of essential oil to a diffuser to get the best out of it for tension relief. Lavender is a well-known sedative and in studies, it is proven that lavender essential oil is almost 1 ½ times more effective in helping those to fall asleep faster and remain asleep for longer.
For Illness
Many people use lavender to calm bronchitis and asthma. It is well-known for its healing properties in colds, flu, laryngitis and whooping cough. When applied as an essential oil to the skin, it opens up the airways and also loosens up phlegm and congestion.
Lavender can be used to aid the digestive system and sweeten breath and as a natural soothing product to alleviate symptoms of colic, nausea, vomiting and flatulence. Please note, if you do suffer with any of the above, see your GP for advice first.
For Joint Discomfort
A natural anti-inflammatory, arthritis and rheumatism sufferers often use lavender to naturally sooth discomfort in the joints. It is especially used in sport for calming injuries, muscular ache and recovery post workout.
For Skin Complaints
Best used topically, lavender can be used neat on the skin, or lightly diluted and even those with very sensitive skin can use lavender to calm and heal skin complaints. It is especially beneficial for softening dry skin, acne-prone skin, on sunburn and burns, to treat boils and abscess and to heal open wounds. Lavender is known to treat psoriasis, head lice, insect bites and stings as well as act as an successful insect repellent.
For Hair Loss
Some studies show that lavender oil massaged into the scalp where hair loss is evident can encourage healthy hair regrowth.
For the Mind
Lavender is noted for its ability to improve memory and cognitive function. Recent research shows that lavender can even slow down Alzheimer's disease by inhaling lavender oil using a vaporizer or diffuser as it stops oxidation in the brain. Swiss researchers have discovered that lavender essential oil can even prevent strokes as it is abundant in antioxidants.
For more on this subject, my blog on the scientific benefits of aromatherapy candles features an area dedicated to lavender: 
Lavender Oil Blends Well With…
You can blend lavender oil with:
Cedarwood
Clary Sage
Geranium
Ylang Ylang
Pine
Nutmeg
Citrus oils
Safety And Precautions
Never take lavender essential oil internally as it is toxic and can lead to vomiting, abdominal pain, nausea, eyesight problems, breathing difficulties, rash or feelings of burning in the intestines. Always take care if applying neat on the skin; it is best to dilute the oil if possible.
If you are pregnant or suffer with epilepsy liver damage, cancer or other medical issues do seek the advice of a medical practitioner or qualified aromatherapy practitioner before using lavender oil, Take care using the oil on children and again, seek advice first.
Conclusion
Versatile and useful, without doubt, lavender essential oil is one of those natural products that every home should have as it plays a vital role in relieving tension, stress and anxiety. In the fast paced world that we live in, lighting a candle as a daily ritual or using a diffuser after a busy day will create a peaceful, soothing haven for you and your family. Just this one little action becomes something so natural and the benefits are enormous. As well as the importance of uplifting and happy rituals, these daily routines become the little things that make you look forward to going home after a busy day! This is an interesting read on the subject of lavender essential oil used as a ritual.
I personally recommend my Provence candle for an uplifting yet calming experience. If you are seeking clarity or need a clear, calm mind then Fleur Boisée is the best possible scent for refreshing your mind and giving you mental balance. For a sensual experience and as an aphrodisiac, the Sensual Healing candle with its blend of lavender, Ylang Ylang and Jasmine is the perfect fragrance for seduction and helping you both to relax with each other.
---