What Is An Aromatherapy Candle?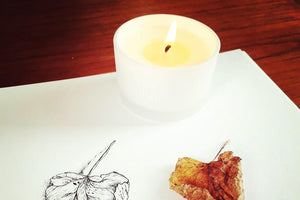 Aromatherapy candles are renowned for providing spiritual, psychological and physiological well-being. You may already be aware that they contain natural ingredients but how are they made exactly? And how do you know if you're buying a genuine and high-quality aromatherapy candle that is potent enough to be smelled around the room and will provide you with the desired therapeutic benefits?
Sadly, there are no laws in the UK and beyond that regulate the use of the term "aromatherapy" and many brands that include synthetic ingredients in their candles use the label "aromatherapy" in their marketing.
How An Aromatherapy Candle Is Made
According to Aromaweb, aromatherapy candles contain 100% natural ingredients and are fragranced with volatile aromatherapy oils (loosely referred to as "essential oils") including essential oils, absolutes, CO2s. These aromatic oils are the results of the extracts from the different methods of fragrance extraction such as distillation, cold-press & enfleurage (essential oils), solvent extraction (absolutes), and CO2  extraction (CO2s). Enfleurage is one of the oldest methods of essential oil extraction but is rarely used today.
While synthetic scents, that are created in a laboratory,  can enhance your mood to some extent, they do not provide the "real aromatherapy" of their whole-plant based counterpart. The synthetic fragrance oil only attempts to duplicate the aroma and not the properties transferred from the plant material itself. In her book "The Fragrant Mind"  Valerie Ann Worwood explains that essential oils are very complex, too complex to replicate. No one has discovered all the chemical components in essential oils such as Neroli. Chemists use the components that allow them to replicate the smell. Even if they discovered and used all the components, they would not be able to copy how the chemicals interact with each other and more importantly with all the natural chemicals and cells within our body.
Aromatherapy candles use botanical wax (e.g. soy, grapeseed or floral wax) or animal wax (e.g. beeswax) or a combination of all these waxes. Since aromatherapy promotes all-natural ingredients, there cannot be any use of man-made ingredients such as paraffin wax or synthetic fragrance. Paraffin wax is a by-product of the dewaxing process that petroleum (crude oil) undergoes while synthetic fragrances (also called fragrance oils)  are made from petroleum by-products such as benzene derivatives, aldehydes, toluene, and other known toxic chemicals.
A good all-natural candle requires a significant amount of essential oils (which are significantly more expensive than fragrance oils), but even so, this alone does not guarantee a good fragrance throw. They also need to burn at a low temperature (or the essential oils risk losing their therapeutic benefits) which makes it even more difficult to achieve a good scent throw.
The infographic below shows the difference between making candles with paraffin wax and candles with natural wax. 

Source: Fix.com Blog
Benefits Of Aromatherapy Candles
Aromatherapy and the use of essential oils should not be used as a replacement for proper medical care. However, the safe use of essential oils including in aromatherapy candles can help improve overall emotional, physiological and spiritual well-being
You may have already experienced some aromatherapy candles (or even tried my own essential oil candles) or read that they play an important role in holistic therapy. As well as being wonderfully aromatic, aromatherapy candles provide many benefits;  their essential oils promote relaxation and sleep, help reduce the symptoms of stress such as anxiety and depression, energise you or even help you focus and provide you with a boost to get creative and move forward with fresh ideas! 
While all scented candles may have a positive emotional effect (scents can cause the "emotional brain" to release serotonin and endorphins), aromatherapy candles also have a physiological effect because they diffuse organic particles which are beneficial to both the mind and body. There have been many reports that demonstrate that natural oils are significantly better than their synthetic counterparts. One report that studied the sedative effect of Lavender essential oil, stated that it has the ability to slow down the heart rate.
If the trip to the gift shop has left you feeling queasy, you've probably been exposed to synthetic fragrance, something you won't find in aromatherapy candles which have an incredible scent, are all-natural and are free from nasty chemicals such as acetone, benzene, and toluene – all known carcinogens. Most synthetic candles are also made from paraffin wax which according to a report gives off undesired chemicals because these candles are by-products of oil refineries. While occasional use is not something you should worry too much, people who frequently use candles are most at risk.
Common Essential Oils In Aromatherapy Candles
The Essential Oils Directory lists around 130 essential oils used in aromatherapy today. Each has a unique chemistry and properties that provide distinct therapeutic, psychological and physiological effects. All-natural candles can help with relaxation, anxiety, depression, insomnia, and concentration. When aromatherapy candles are scented with one single essential oil or with essential oils in a blend, synergy occurs. Either within the single oil (Lavender on its own can relax and help you sleep) or to produce a blend that is more effective than when using a single oil (to help you relax, reduce anxiety and help you sleep).
Relaxation
Lavender - on its own has a soothing scent and is renowned for its sedative properties and its ability to relax and promote sleep. If you need to relax because you're anxious or stressed, it can be blended with Clary Sage and Vetiver or Neroli and Petitgrain. If you're suffering from stress, anxiety and depression and find that you're tossing and turning during the night, then Lavender works well with Geranium and Ylang Ylang. I use these 3 wonderful oils in my Petits Rituels Provence candle.
Insomnia
Lavender also works great for promoting sleep but if you don't like the aroma of Lavender, you can also try Roman Chamomile, Petitgrain, Ylang Ylang or Bergamot.
Stress & Anxiety
Anxiety can be experienced at varying degrees. These essential oils help reduce the feelings of anxiety that can sometimes be caused by stress: Clary Sage, Petitgrain, Rose and Vetiver.
Depression or sadness
If depression is only temporary for some people, it can be a long term struggle for others. While aromatherapy cannot cure depression, these essential oils can help relieve some of the symptoms: Jasmine Absolute is uplifting and can help fight depression but due to its high cost and the large amount required in candles, it is rarely found in candles in sufficient amount to be effective. Sweet Orange is great for fighting the Winter Blues, Geranium helps with both anxiety and depression, Bergamot and Neroli will ease depression or sadness especially in situation of grief.
Memory & concentration
For focus and memory, Rosemary is a great stimulating essential oil that will also help during long study sessions and is generally regarded as the one to use. It can be blended with Sweet Orange, Lemongrass, Basil, Peppermint or Spearmint as they're all quite uplifting and a different aroma can be achieved.
What To Look For When Shopping For An Aromatherapy Candle
The check-list below will help you select a good quality aromatherapy candle:
If the label doesn't state "100% natural ingredients", check the ingredients list. There should not be any mention of fragrance oil, paraffin wax, mineral wax (the other name for paraffin wax).
The common names of the essential oils should be followed by their Latin equivalent (e.g. Lavender and Lavandula Angustifolia). If in doubt ask the manufacturer.
If unsure ask for the percentage of essential oil (as guidance it should be at least 8%)
Smell the candle, you might be able to detect the artificial scent or the natural aroma from the essential oils.
Avoid coloured candles as they tend to contain artificial dyes
Remain cautious with candles that do not clearly list all of the ingredients used within the candle. If they don't reveal all the ingredients, maybe the manufacturer has something to hide.
If the price doesn't seem right, then check all the above!
Photo credits: Anshu A
Now Over To You!
What is your experience of aromatherapy candles? What do you look for in an aromatherapy candle? Can you tell the difference between natural and artificial scents? Is there anything that I've missed? I'd love to hear from you. Leave your comments below!
---