How To Create The Perfect Valentine's Mood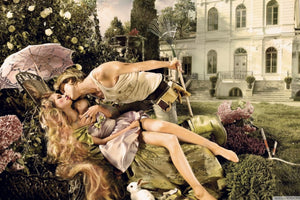 With Valentine's Day just round the corner it's time to turn your attention to what you're going to do to celebrate with your loved one.  Of course, this doesn't mean you can't also treat yourself – after all everyone deserves some TLC and fabulous pampering whether with a partner or not.  Petits Rituels is all about indulgence, relaxation, peace and feeling fulfilled so it's no surprise that Valentine's Day is one of our favourite days of the year! Our candles, melts and essential oil blends encapsulate romance and pleasure and definitely help to create the right mood.  We have plenty of other ideas too so hopefully these Petits Rituels tips will help you create the perfect ambiance and atmosphere so that your night is sensational, from beginning to end!
Valentine's Day – A Brief History
Valentine's Day is all about romance and feeling special and since the Middle Ages, February has been noted as the month of love.  One reason is because the middle of the month is traditionally the time of the month the birds mate.  Another reason is because of the first written Valentine's card which appeared in 1415. You can still see it in the British library, where you'll find a poem written by Charles Duke of Orleans for his wife.  He wrote it while he was imprisoned in the Tower of London having been captured at the Battle of Agincourt.  Finally, long ago there were at least three Saint Valentine's.  One was a priest serving in 3rd century Rome who performed marriages for young lovers secretly when Emperor Claudius II banned marriage for young men, believing that men without wives performed better on the battlefield!
Setting The Mood
When thinking about Valentine's Day the imagery that you conjure up normally consists of hearts, flowers, cupid and feeling love.  So let's plan a wonderful evening for you to cosy up with your loved one or if you are single there's no reason why you can't cosy up with a couple of friends and watch an enjoyable movie surrounded by a different love, friendship.
1. Plan Ahead
Why not cook a meal at home?  If you are sending a Valentine's Card perhaps shroud it in mystery even if the recipient knows who it is from.  Invite your partner round for something "extra special", give them a time but say no more…you could drop a hint in the card, perhaps enclose a Valentine's menu so they know that they're going to enjoy being spoiled by you!
2. Set The Menu
If you do decide to cook a romantic meal and you're trying something new then cook it once beforehand so you know you get the recipe just right!  Sometimes there's not enough time to prepare something complicated from scratch particularly if you've been working all day so keep it simple but delicious.  If you know your partner enjoys fish then prepare his or her favourite.  Seafood is traditionally an aphrodisiac if you're a whizz with oysters or mussels.  If not, you could try an Asian style wild salmon served on a bed of noodles. This is easy and delicious, baked with chili, honey, sesame oil, ginger and soy sauce.  Or if he or she loves good meat buy tender steaks and grill them lightly on each side, serve with fresh, crispy vegetables and herb potatoes.  Fresh strawberries and red berries make the perfect romantic dessert, serve with whipped cream or make your own ice cream if you have time to prepare in advance.  Of course, for something very sensual cut up some pieces of fresh fruit and make a chocolate fondue – enjoy feeding each other!  You could also make a  pavlova, the meringue base takes ten minutes to prepare and just one and a half hours to bake in the oven, decorate with whipped cream and fresh berries…simply delicious! These are just some suggestions but don't feel any pressure, you could always cheat….no one will know the difference!
3. Set The Table
Set the table the night before; choose suitably coloured table linen in soft pinks or deep red.  Candles obviously create the perfect romantic balance and you could perhaps dot the room with tea lights and candelabra to get the lighting and mood just right.  Light a Petits Rituels aromatherapy candle too, because the aroma of a candle welcoming your partner will automatically transform your home into a sensual space.  Choose something which noticeably hints at romance and leaves a delicate scent without being too overpowering.  We recommend the Petits Rituels exotic Sensual Healing because it is a seductive, heady blend of Ylang Ylang, rose, lavender and jasmine.  The fragrance lingers long after the candle has gone cold too preserving the mood, it's both soothing and erotic.
4. Buy Yourself Flowers
While you might be expecting flowers, it's still a gorgeous idea to dress your room with the flower associated with Valentine's Day.  Try short and shallow glass bowls or vases and float red and pink roses in water or dot tall and short roses around the room with plenty of greenery.  If you have a fireplace by all means light it and conjure up romantic comfort. 
5. Make A Playlist
Finally, download some romantic music to set the scene and devise a playlist.  If you don't have time to do this, there are plenty of playlists already devised by Spotify devotees!
6. Pamper Yourself 
Before your partner arrives, have a long, indulgent bath in twinkling, soft light and light a relaxing aromatherapy candle to help you feel serene.  Choose Provence from Petits Rituels, a blend of lavender, geranium and Ylang Ylang guaranteed to make you feel every bit as special as you are and prepare for your beautiful evening ahead.  Put on something flattering but comfortable and enjoy your night together.
We hope you have a magical Valentine's Day, what do you like to do to celebrate?
---