Make Mum's Day With The Gift of Petits Rituels!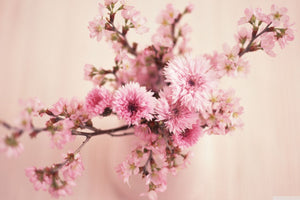 Just how much do you love your mum?  We bet she's simply the best and you wouldn't want to be without her so showing her you care is high up on your priority list!  Although she knows how much you love her already, Mother's Day is significant because it gives all of you the chance to really spoil mum, reminding her that you care about her deeply and you want her to know just how much.  Choosing the right gift is obviously important but finding the gift that says it all can be a difficult task.  Luckily at Petits Rituels we believe we have the right gifts which spell out just how much you love your mum and tick every box.  So if you want some extra Brownie points and to guarantee putting a smile on her face that lasts all day next Sunday look no further than a luxuriously extravagant Petits Rituels candle.  We know it's perfectly fitting for your amazing Mum and we'll tell you why it's a Mother's Day gift to treasure!
It's Extra Special…Just Like Your Mum!
There's nothing quite as exquisite as a sumptuous candle which is lovingly handmade by a candle artisan. Sophisticated, mellow and only using the finest ingredients it's something utterly wonderful - just like your mum.  We believe it's the perfect pairing and we should mention the gorgeous fragrances which produce feelings of contentment and relaxation – what could be better?
It's Unique – Just like Your Mum!
Your mum is one in a million and the Petits Rituels candles are all made in very small batches so while they are not as unique as your mum every single one is handmade giving it its own originality.  Also, Petits Rituels candles are created with such loving care they are the ideal Mother's Day present and each one contains all natural ingredients, with pure essential oils sourced from the best distillers in the world, of course, only the best for your mum.
It's Packaged Beautifully – Just Like Your Mum!
Not only are our Petits Rituels candles made with love, the packaging is also designed to delight and thrill.  The boxes we use are premium quality and it's the little touches which make all the difference between a nice gift and a fabulous present the recipient can't wait to open!  Our boxes come complete with little cards that contain essential information on how to get the best of your candle burning "rituel".  Every candle is hand packed, with care and of course, with love.
There's One To Suit Your Mum's Amazing Personality!
With six different captivating scents to choose from, there's a Petits Rituels candle for everyone, match to your mum's personality or give her something to invigorate her mood. So if your mum loves floral fragrances give her Floral Sensations and fill her home with the aroma of scented flowers.  Or if your Mum prefers citrus then Orange Gourmande will delight her senses and put a spring in her step!  Of course to refresh and revive, the Minty Bonbon is just incredible and rejuvenates while bringing a fresh, crisp scent into her home.
It Lasts Longer Than Flowers…
Flowers are gorgeous, and everyone adores a bouquet of Spring flowers but they don't last very long and a Petits Rituels candle gives so much more pleasure…for longer.  Burning time lasts for up to 40 hours and just a little burning every day fills a room with the wondrous fragrance of natural aromatherapy oils – lingering long after the candle has gone cold.  So the memory of your gift will last longer…
It's The Finishing Touch To Mum's Spring Clean!
Spring is all about out with the old and in with the new.  It's the time when you throw open your windows and you can see flowers shoot; pretty pastel blossom appears on trees, the birds sing again and the days begin to get longer.  It's the time of promise. If your Mum loves to Spring clean a Petits Rituels candle is the perfect Spring gift bringing the new season into the home, the ideal final touch.
It's Gorgeous, Just Like Your Mum
Mums love pretty things and they also adore fragrance.  Whether it's indulging in a brand new perfume from her favourite department store or enjoying the scents emitting from the garden.  There's no doubt about it, a Petits Rituels candle is something she will appreciate and enjoy, appreciating the sensational scent every time she lights her gift from you.
It's Natural, Like Your Love For Your Mum
If your mum already loves home fragrance, Petits Rituels will enhance her experience because it is all-natural made with the purest aromatherapy oils, a cotton wick and natural wax.  There's nothing fake about it, no nasty chemicals just pure, indulgent delicious fragrance.
We're sure we've convinced you to purchase a Petits Rituels candle this Mother's Day and we know she'll adore her gift so show her how much you appreciate her – sealed with a kiss x
Happy Mother's Day!  How are you spending yours?
---