Be Your Own Valentine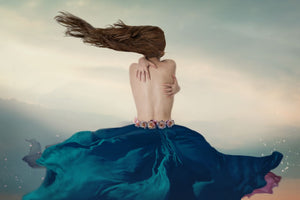 In an age where looking good is so high up on many women's priority lists (that's not to say it's not important to men either) sometimes it's wise to sit back and take stock.  Women today do want to look good but everyone (regardless of sex or age) wants to feel good too and actually, to look your very best, you need to feel positive about yourself.  Deep within, if you aren't happy or you are carrying around an inordinate amount of stress it does show on your skin, face and even the way you hold yourself.  It also appears in your personality. Someone who isn't feeling great will reflect it in the way they hold their head up, or perhaps the way they move.  So it's important to love yourself and while it's easier said than done, trust Petits Rituels, it can be done with a few subtle changes.
Happiness Attracts Others
When you meet someone new, you immediately pick up on their vibe. If they are attractive to you it's normally because they have something vital about themselves, such as a radiance that comes from within.  These are the types of people who are the most attractive, not necessarily those who have a face full of make-up, but someone with sparkling eyes, with a natural open smile and glowing skin.  They exude happiness and happiness makes them beautiful to others.
So, while the cosmetic and skincare industries are worth billions and billions of pounds and they do help to boost confidence, real beauty comes from within.  That's why it's so important to look after yourself and really treat your body and mind to little luxuries to alleviate stress, reduce tiredness and boost your "inner" beauty.  When you're naturally happy – don't you notice how many more compliments you get from others?  You don't have to think about how you walk – you glide instead, or perhaps you stride with confidence!  It's amazing how your skin glows and your complexion clears, it's also remarkable how you naturally attract other people because you are a beacon of happiness!
This February 14th you may or may not have a Valentine already but why don't you make it about yourself?  Treat yourself to feeling good and enhance your own beauty, naturally, from within.  Look at using products that use certain natural ingredients known for their beneficial properties.
It's What You Put Into Your Body Too
"Natural Beauty Comes From Within" is a well-known saying and you can interpret it in a couple of different ways; firstly in how you are feeling about life and secondly, in what you put inside your body.  Treat your body well and it will respond well back.  If you feed your body with junk food for example starch, refined sugars and fried food your complexion and hair will look lacklustre, you might notice you break-out in spots and your eyes will lose their sparkle.  Equally, you'll feel sluggish and tired.  So fill your shopping trolley with goodies such as fresh fruit, lots of colourful red berries, green vegetables and protein (fish and meat).  Fruit and vegetables are packed with anti-oxidants which help to combat nasty free radicals.  Free radicals live in the atmosphere and are a combination of cigarette smoke, industrial fumes, UV rays and other nasties.  They break down collagen in your skin which is why you need to fight them with anti-oxidants. 
You should also drink 2 litres of water a day. Do this every day for a month and you will see a noticeable difference because water flushes out impurities from your system and rehydrates your skin and organs.  Try it – you'll reap the rewards!
Get Closer To Nature
As well as eating good quality food you need to feel good about life and this can be hard going with all the stresses that surround us in modern times.  Nobody said it was easy but often it's your attitude to life that makes all the difference.  Some people are born with a positive mental attitude and others are more "glass half empty".  Luckily you can take steps to change the way you feel about things you can't control.  Every day, take a walk, not only is this good exercise, it helps you to fill your lungs with outdoor air and really does go a long way to relax your body and mind.  Choose a beautiful area close to where you live or work and embrace your surroundings.  Try and get closer to nature, even if it's not your "bag" because there have been numerous studies which prove that people who appreciate nature are happier!  Spring is on the way – the blossom on the trees always takes my breath away!  Sunlight is really important too and a great source of Vitamin D, we all need sunlight to live. Even if it's a dull day, get outside, the sun's rays are always there just don't forget to wear sunscreen.
Love Yourself
You should also treat yourself how you would treat your partner.  Run a hot bubble bath, dim the lights, play some soft music and light your favourite Petits Rituels candle (try Sensual Healing to relax or Minty Bonbon if you want to refresh).  Then luxuriate in bubbles, inhaling the all-natural scent and let your troubles melt away.  Taking time out to enjoy some "me-time" will unwind you and help your mind to free itself.  Feeling good from the inside will help you to look wonderful outside!
Respect Your Skin
Of course, a peachy complexion and lucid skin often comes from good genes but as well as feeding your skin with good quality ingredients, what you put on your skin also makes a huge difference.  I'm a big advocate for natural skincare.  It's difficult to find completely natural skin and cosmetic products but do take care to read the labels.  There are lots of chemicals which creep into what you use and they hold their own dangers.  Look out for ingredients such as sulphates, benzoyl peroxide, parabens, FD & C colour, propylene glycol and phthalates because these are unhealthy.  Instead, look for products that contain natural substances such as hyaluronic acid, vitamins, minerals and essential oils.  Anti-oxidants as you know are good for you and certain vitamins (C and E for example) are an excellent source, working hard for beautiful skin.
Get Some Sleep!
Don't you find that when you sleep well you look and feel better?  Try and achieve at least 7 hours a night, you'll notice dark shadows disappear and fine lines seem to fade.  Your skin also re-hydrates itself and repairs overnight so sleep is restorative.  If you do struggle with sleeping well, try and inhibit the use of technology, don't drink any caffeine instead replacing it with a chamomile tea or similar.  Light a Petits Rituels candle to help you to relax, I recommend Provence because it contains Lavender which is well-known to induce sleep.
Finally – be happy in your own skin which is easy to say but you should embrace your positives and enhance them.  Too often people focus on the negatives, forgetting all their good points.  The key to happiness is accepting that you have plenty of wonderful things that make up who you are and nobody is perfect.  Of course, I should mention that you should love your imperfections; they are the things that make you unique.
Happy Valentine's Day!  Make this one about you.
Love,
Petits Rituels x
---