Parents of Children With Disabilities: Signs and Treatment for Parental Fatigue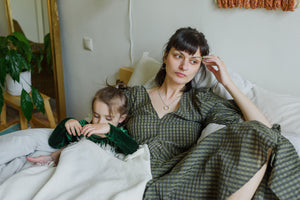 Whether you live in Surry Hills, Australia or elsewhere, having and living with a disabled child can profoundly affect the entire family, especially parents. Depending on the type of condition and severity, raising a disabled child may at times impact parents' mental and physical health and affect decisions and self-esteem. Today, Petits Rituels provides a framework for assessing the symptoms associated with parental fatigue and offers practical guidelines for treating core fatigue causes.
Assessing Fatigue Levels
Most parents of children with disabilities find it challenging to recognise the severity of their fatigue levels, as they consider feelings of "being tired" or "over-stretched" as a given result. However, specific symptoms should be regarded as severe for their effect on you and your child. If you're feeling stressed and overwhelmed, considering the following few questions can help you assess your fatigue levels more accurately:
How Do You Rate Your Parenting Satisfaction? Feelings of sadness and grief when you think about the dreams you had for your child, perpetually blaming yourself and others for your child's disability, and constantly worrying about your child's future can negatively impact your fatigue levels.  
How's Your Sleep Quality? Waking up regularly during the night and having problems falling asleep again can lead to disruptive sleep patterns that can lead to other symptoms, such as insomnia, irritability, anxiety, and depression.
How Are Your Depressive and Anxiety Symptoms? It's normal to experience a sense of loneliness at times; however, if you're constantly feeling exhausted, stressed, sad, and unable to handle life's challenges, you may be suffering from anxiety and depression resulting from prolonged exposure to physical and emotional stress.
Prioritising Fatigue Levels
Regularly assess and prioritise your feelings to prevent burn-out and parental fatigue. A disabled child can broaden your horizons, increase your awareness of inner strength and encourage family cohesion and other connections. Therefore, following a few basic "do's" and "don'ts" can help you feel accepting of your child's disability, connected, and in control.
The Do's
Self-care is the most important thing you can do for yourself, your child, and your family.  Make an effort to find what makes you happy, then set aside enough time to do things that help you manage your stress and better cope with some of the challenges.
Create a self-care plan, and stick with it!  This can include making small changes in your home, such as creating a space to meditate or having some time for yourself. Change décor elements, add colour, declutter, and add greenery to help elevate your mood. You can even add anxiety-reducing essential oils and aromatherapy candles from Petits Rituels to help make the space more relaxing and comforting. Also, continuing to develop your own interests by starting a new hobby, going back to school, or even starting your own business, can make you feel empowered and positively impact your child.
Reach Out to Others
Reaching out to other parents and organisations and subscribing to internet resources and information can help you feel less isolated.
The Don'ts
Be careful of underestimating any symptoms of parental fatigue, especially feelings of anxiety and depression and overcompensating for an unsupportive partner.
Happy Parents, Healthier Children
By following a few simple rules and creating a self-care treatment plan, you can avoid parental fatigue and have a happy, prospering child.
Only Petits Rituels creates the most beautiful room-transforming 100% natural fragrances with real therapeutic benefits. Our organic candles, wax melts and aromatherapy blends are expertly blended with pure essential oils (many organic) to deliver a heavenly scent for your mind and body. If you have any questions, please email info@petitsrituels.com.
Photo by Ksenia Chernaya from Pexels
---