Campaign For Clarity's Bid To Reclaim 'Organic'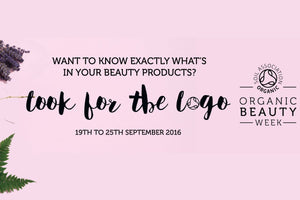 The Soil Association charity all begun with one ambition: to advocate the healthy link between soil, animals, food, the environment, and people. Today, it supports the same views, which is why it's still by far the UK's number one charity when it comes to practicing healthy and humane food, farming, and land practice and use. It doesn't stop here; it also wants to let you know which organic beauty brands are the real deals and which ones aren't; in other words it wants to put those true organic beauty products on the pedestal and 'out' the fakes.
So, it's fair to say that organic health and beauty is huge right now – it's a multi-million pound industry, which is still on the increase.
Their most recent Organic Market reports reveal that UK consumers are behind organic beauty products 100%. This can be seen in the dramatic increase of organic beauty purchasing power. In 2014 alone, the sale of certified organic health and beauty products increased by a whopping 20%, resulting in a £44.6 million turnover. For the first time in history, UK organic beauty and health producers have enjoyed an impressive overseas' export revenue of £10 million.

The evidence is there. It's blatantly obvious that more and more people are putting their trust into organic beauty and health products. A case in point is Neal's Yard Remedies. It's the UK's biggest and most successful organic and natural beauty brand that's just as famous overseas as it is at home. Their sales were up 12% in the UK alone. Another well-known organic certified beauty brand, Pai Skincare, which is popular amongst women of all ages, saw its sales double last year.

So, it's fair to say that organic health and beauty is huge right now – it's a multi-million pound industry, which is still on the increase.
Some cosmetic Brands Misuse The Label 'Organic'
But there's one issue. The more organic beauty brands grow in popularity the more other cosmetics companies try to get on the bandwagon, even if they're not 100% organic like they claim. You might find that cosmetic companies use the words 'organic', 'organics','organiks', or something similar to give the wrong impression. Just because they use certain words, it doesn't mean they are wholly organic products, and in some cases these products don't contain any organic ingredients at all.
So, how can we really be sure that they are who they say they are?
The Solution Is COSMOS
There's only one way you can really ensure that they're who they claim to be, and this is through their certification, which will be always awarded by an accredited organisation.
Products that are COSMOS (Cosmetic Organic Standard) certified and endorsed are made in accordance to the highest standards when it comes to high quality 'real' organic and natural cosmetics. They've been rigorously tried and tested to ensure that they're not only 100% safe, but also all effective. 
If you're wondering how you can spot a genuine COSMOS-certified product, you can do so by looking at the products' labels, which are easily identifiable. What's more, these labels also include all the details you need to know when it comes to selecting a safe and quality product that is going to not only meet, but also exceed your expectations.
Organic Beauty Week
The Organic Beauty Week, which is run by the Soil Association, is part of Organic September. The aim is simple – to inspire everyone to go organic, which includes purchasing organic beauty products. 
Another great campaign that is running throughout Organic September, 'Campaign for Clarity', is trying to raise better awareness within the industry and remove 'greenwashing', a term used to describe companies who falsely claim to be green. The aim is to eliminate such false claims. 
At Petits Rituels we're proud of our beliefs. Even though there is no certified organic label for candles yet, we believe in transparency. We always list all our ingredients, which include organic essential oils, in the product description. In fact most of our essential oils are 100% organic, with 10 out of 12 falling into this category. If any of our customers wish to find out more about any of the ingredients and processes we use, we're happy to discuss it via the online chat on our website or alternatively you can drop us an email.
We will continue to support and promote such campaigns to help raise better awareness and stop people from getting scammed by buying fake 'green' cosmetics. 
It's time to reclaim the word 'organic' and bring it back to what it really is. Join the Twitter campaign today and use the hashtags #organicbeauty and #campaign4clarity to show your solidarity. 
They say it is time to reclaim the word 'organic', so that's what we're doing. 
---