Organic September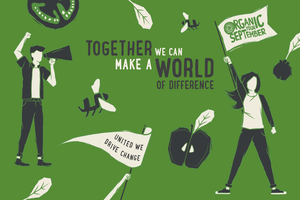 For those of you who are not fully aware of the purpose of  Organic September, it's a month-long UK campaign led by The Soil Association that raises awareness of organic food, the brands and the producers behind them. It's an opportunity to encourage people to try organic whilst learning about organic products.
Non-Certified Doesn't Always Mean It's Inferior
Organic certification (and the logo you see at the back of the packaging) is a good thing because it gives you confidence in the products you're buying but choosing not to be certified organic isn't necessarily a bad thing as most of the time, it comes down to costs and that can be a huge burden on small food and non-food brands.

Take my essential oil blends for example, they are all made with Certified organic pure essential oils. I really enjoyed sourcing these beautiful oils for my products and even got to meet some of the producers. All the essential oils for my diffuser blends include the certification logo and many of them are used in my aromatherapy candles and melts, but I decided to leave this off my packaging because it comes down to cost and I know all my suppliers work sustainably without pesticides or herbicides.
Together We Can Make A World of Difference
Whether you take small steps or huge leaps towards green living, every action counts towards reducing your environmental impact. You don't need to go all organic but start small. I started with eating an organic breakfast and now I get delivered a weekly organic fruit and veg box from Abel & Cole. They offer you flexibility and you can skip some weeks if you want to. They also rarely use plastic packaging, and when they do it gets recycled.
What do you do to change the world?
---